I am very pleased that you have chosen Lipscomb University! Lipscomb is a Christian community of scholars dedicated to learning, leading and serving, preparing each student for excellence today, tomorrow and forever.
In that statement are two important considerations. One is that Lipscomb is a Christian community; our world view is informed by Jesus Christ who we believe lived as the incarnation of God on this earth. We hunger for truth, with scripture as the foundation for learning, but we look for truth wherever it may occur in God's creation. We hold confidently to the notion that faith demands excellence, and we look forward to exploring those concepts with you for the next few years.
Also in that statement is the proclamation that Lipscomb is a community of scholars. You will enjoy learning from, and with, highly qualified faculty members who will be personally engaged in your academic program and continue to be learners themselves. Most of our faculty have the highest degrees awarded in their fields of emphasis and have received those degrees from institutions around the country and the world.
Our focus, however, is on you. Our goal is to equip you for the world as it is today, to prepare you for success in the world as it will exist tomorrow, and motivate you to give of yourself to better the lives of others. You will find friends from among a surprisingly diverse student body that comes from 49 states, 50 nations and a broad range of religious backgrounds and cultures. You will have opportunities to study and serve throughout this community and the world. Nashville is our campus, and the world is our classroom.
Today, tomorrow and forever. Those are the three words that should be at the center of your college experience. I believe you have chosen the best university from which to explore them. Welcome to Lipscomb!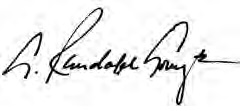 L. Randolph Lowry
President